Credit Balance Smart Notification
A little but useful widget has been added in our client area: in the "Credit Balance" sidebar, you can set up an automatic alert, based on the sum necessary to renew domains and services in a given number of days.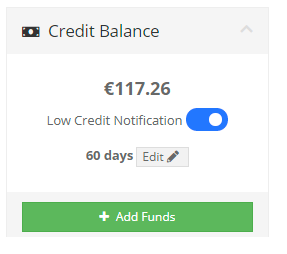 So, if you set i.e. "30 days", you'll get an alert by email when your current prepaid credit will not be sufficient to pay all the renewals coming in the next 30 days.
The check will be repeated every time an invoice is paid with credit (full or partial), but in order not to annoy you with unnecessary emails, you'll receive a maximum of one "Low Credit Balance" email notification per day.