Backup and Disaster Recovery
Starting from
$92.92
Monthly
Ortoscale Connect Offsite Backup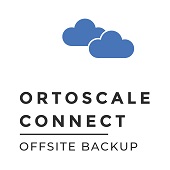 Based on Veeam Cloud Connect Backup tecnology
Ortoscale Connect Backup allows you to back up your VPS or even your entire IT environment into a cloud, from where it can be restored partially or completely back to the client at any time.
The data is encrypted with the client's key or certificate, even before leaving the company.
If necessary, data can also be delivered in physical form.
To use the service, you will need a Veeam Agent for Linux or Windows or the Veeam Backup & Replication tool.
In case of cancellation or loss of data at your location, you can restore data from your Ortoscale cloud backup.
Basic service includes 1 Veeam Cloud Connect licence (for a single VPS or server) and 1 TB of cloud storage.
You can expand up to 36 Veeam Cloud Connect licences and up to 10 TB of cloud storage.
If your project require more than 36 licences or more of 10 TB, please
contact us
for a special quote.
Ortoscale Connect Offsite Backup service is provided by Ortoscale, Veeam Cloud & Service Provider from 2015.